Great Dane & Pet Art
Specializing in Great Danes & Dog Breeds • Cat Breeds • Other Animals & Pets
Greeting Cards • Address Labels • Cast Stone • Original Sculptures
---
Shop for your favorite dog breeds on greeting cards, stationery, and matching labels.
Hand cast stone statues, ornaments, pins and other items available. Original sculptures offered occasionally.

Make sure you have plenty of your favorite holiday cards plus matching Address Labels!

Cards start at just 99 cents each and include a white envelope.
Add an inside greeting and color coordinating envelopes for just 10 cents.
Card designs also available on matching address labels.
Most available as 2.25" pin back buttons too.

Visit the Danes-R-Us Online Catalog for Great Dane greeting & note cards or hand painted ornaments & figurines.


FEATURED PRODUCT & DESIGNS FROM DANES-R-US Duds (powered by CafePress):


Great Dane Walking Answers T-shirt
$19.99 as shown - other shirt styles and sizes available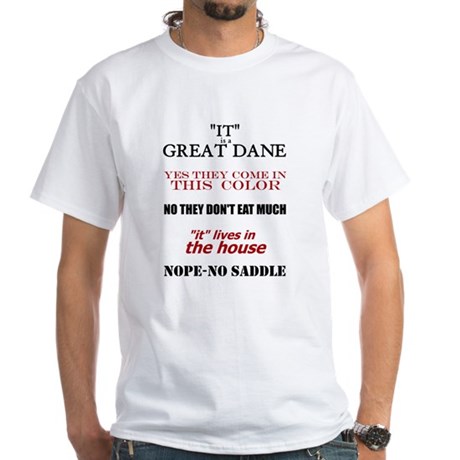 SEE ALL PRODUCTS with this design

Great Dane Walking Gear features the ANSWERS to all THOSE questions Dane owners hear, You know the ones!

"What kind of a dog is it?"
"They come in THAT color?"
"Bet he eats alot?"
"Where does it LIVE?"
"You got a saddle for that thing?"

Just roll your eyes and point to the shirt - never sound like a broken record again while these awesome items do your work for you.